Carnaval was inspired by the arcade game "Carnival". The player moves a gun across the bottom of the screen and must clean all targets in order to progress to the next level. Ammunition is limited, and is represented by the yellow points shown.
The pipes descend gradually, allowing them to reach the bottom of the screen results in the player losing ammunition, the player must thus prioritise their targets and defeat them in the correct order.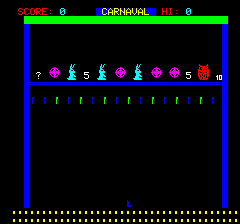 Written in Oric BASIC in the manner of Frog, these two games were published on cassette by ASN Diffusion in very limited quanitities. They sold terribly, and the company did not even give me a single copy. In a kind of irony, then it was while in a fun fair that I discovered a Carnaval cassette lost amidst a large batch of games...

In the absence of the original, I will always have the Master !