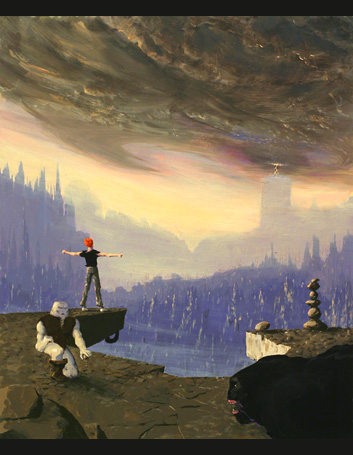 On several occasions I wanted to become an illustrator and make a living from it. Painting and especially fantasy illustration fascinated me. I nearly gave up video games to dedicate myself to it completely, so it was logical that I take care of the game box art. Illustration to me is the extension of a work. It is the first connection the player makes to your game, and so it has to represent it.

You will find below many preparatory sketches.
The composition research was made with Deluxe Paint software. The colour study was painted on paper, without lingering on the accuracy of the drawing, as the impression given by colours was most important.

The monochrome bitmap on Amiga was used as a guide, it was printed and then applied on cardboard. Final paint was made in acrylic.

As you can see, the sky color has nothing to do with the blue tones in the game. I hesitated a long time, but I found that, emotionally, the illustration perfectly reflects the feeling of the whole game. Both complete each other through their differences.



Drafts



The majority of the game screens were executed without preliminaries directly in the polygon editor. There are, however, some sketches on paper :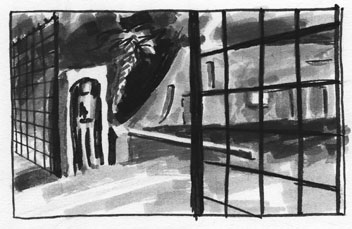 The foreground of the introduction. This framing was not satisfactory, it did not emphasise the skid of the car. Also, the presence of the guard at the entry seemed too traditional, without mystery.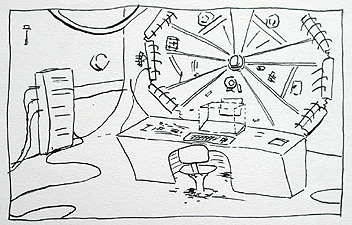 The laboratory…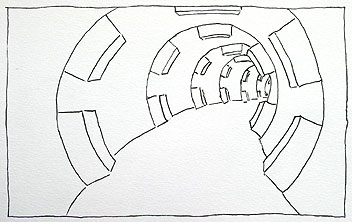 ... and the cyclotron very close to how they appear today. Essentially, these images are mockups intended to be copied into polygon format.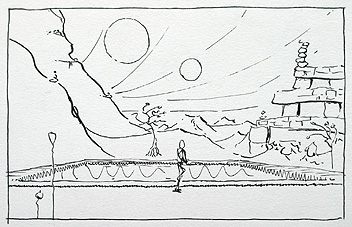 The second screen of the game was completely restructured.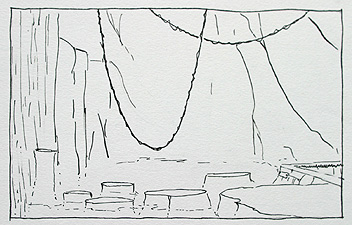 Also for this screen where Lester swings on the liana vine. As the polygonal graphic style of the game was so unique, I finally realized that it was faster to conceive and develop these images directly in polygons.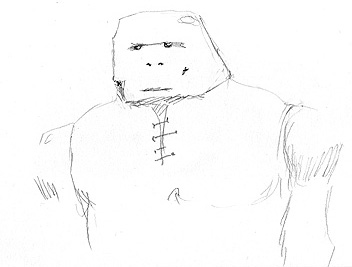 This draft dates from the end of the development period.




- Aside -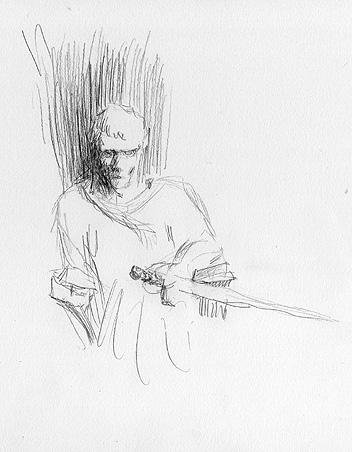 At the time of an uncertain period during the creation of Another World, certain doubts pushed me to explore other directions...
This was finally abandoned because it was in dissension with the tonality of the game.


>> Versions page