Another World's commercial existence has two supports.

Mobile version:
The mobile phone version is currently distributed to mobile operators (notably via Handango) by Telco Games.


Windows XP version:
On Windows XP, the improvements of the mobile version ("high resolution" background images) are combined with vector graphics. It is the republication of Another World, it is entirely scalable and makes it possible to combine all the resolutions available with two graphic modes, 16 colors or more. It is of course possible to play the game such as it was in the beginning i.e. in 16-color at 320x200. This version is published online by Magic Productions, at the affordable price of 7 Euros. The Windows XP version is downloadable here.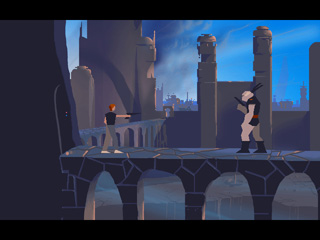 Place the cursor over the image...





Click on this picture to see it in 1280x800.